novel∙t (novelty) is an enterprise service for school districts that replaces the use of a traditional library.
Serving students and teachers in K-12 schools, novel∙t is a virtual space that allows users to interact and discuss reading materials globally. A tool that helps school districts adjust to the new wave of technology.
Educators see technology as good classroom engagment
Educators say tech is core to learning
Less tech training is needed in the curriculum for students
THE LANDING PAGE
The goal of the landing page is to get users to sign up immediately by presenting them with an offer that benefits them directly and following the offer up with details about the service.
THE BRAND
The brand contains illustrative elements and youthful bright colors to appeal to the K-12 education sector.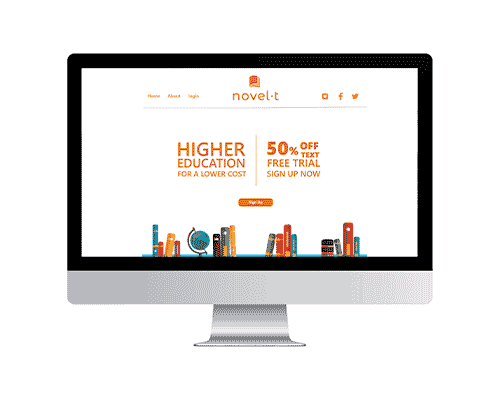 The site begins with an offer of 50% off text and a free trial that encourages users to sign up.
The following section points out key features of the service, such as connecting to the school's eCatalog and the ability to interact globally with other classrooms reading the same material.
This section also encourages districts to support the way generations are learning nowadays.
If the user has been convinced, they are offered another opportunity to signup.
Still not convinced? novel∙t is available as a mobile and desktop application.
The last section offers testimonials from satisfied parents and teachers. The user is then presented with another opportunity to sign up for the discounted offer.